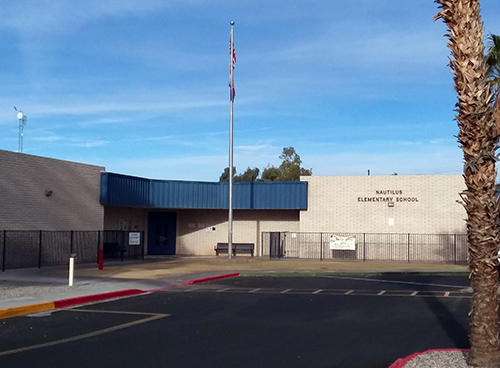 The Nautilus school community of staff, students, families, and volunteers work as a team. We share the responsibility of modeling and teaching the essential academic and life skills necessary to encourage our students to become responsible, well-rounded, contributing members of society. We strive to cultivate each student's academic strengths and interests while encouraging his or her own positive character traits. Together WE can!
I pledge today to do my best
In reading, math, and all the rest.
I promise to obey the rules,
In my class and in our school.
I'll respect myself and others too.
I'll expect the best in all I do,
I am here to learn all I can,
To try my best and be all I am.
Start Time: 7:55 am (Breakfast available from 7:30 am - 7:50 am)
Dismissal Time: 2:30 pm
Early Release Dismissal Time (Thursdays): 1:00 pm
Parks and Rec: 2:30 pm - 6:00 pm; 1:00 pm - 6:00 pm (Early Release Thursdays)
Office Hours 7:30am ~ 3:30pm
All visitors please sign in at the office and get a visitor sticker.
Sign all students out in the front office.
If your child will be absent, please call the office at 928-505-6060 before 9:00 am.
An automated call will go out by 10:00 am to verify any unexcused absences.
We do have a voice mail prior to 7:00 am.