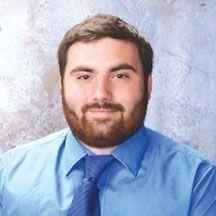 Mr. Jonathan Moss
Principal
Nautilus Students and Families,
It is with great pride and excitement that we welcome you to the 2021-2022 school year.
As our journey begins you may notice many new faces on our campus, including my own.
I wanted to take a moment to introduce myself, our new teachers, and share about our upcoming year. My family comes to Nautilus from the not-so-distant Bullhead City/Fort Mohave area where my wife and I both served as teachers. Our daughter, Layla, is a curious and fun-loving three-year-old.
Over the past several years, I have been able to grow under the mentorship of some incredible individuals while transitioning from the classroom to school administration thanks to the support of my family. I hold a bachelor's degree in business, a master's degree in mathematics, and an educational specialist degree in educational leadership. I am pursuing my doctorate in educational leadership with a focus on student support and discipline.
The Nautilus Family is growing with the addition of a few new teachers. I encourage you to visit with them over the next school year and show them why our learning community is so special.
Please join me in welcoming the teachers below to Nautilus!
Paige Batson – Kindergarten
Justine Casper – 2nd Grade
Morgan Montiel – 2nd Grade
Kristen Leffler – 4th Grade
Debbie Rankin – 6th Grade
Shannon McDonald – 6th Grade
Zoe Powers – Resource
As the year grows, we have made a collective commitment to a safety and student support. We are excited to be able to partner with you during this journey. Please visit with us, follow us on social media, and let us know what we can do to support you this year.
Go Dolphins!
Jonathan Moss
Principal, Nautilus Elementary School